What is Pad Printing?
Quite simply, pad printing is a process of transferring an image from an etched cliché (printing plate) on to a product, using silicone pads and pad printing inks.
With the versatility of pad printing, it is of course possible to print on to a diverse range of promotional products - including pens, lighters, golf balls, calculators, mugs to name but a few.
It is also possible to print on to glass, metal, ceramics, plastics, smooth, textured or irregular surfaces.
Pad printing is also a preferred method of marking in industry and is widely used to print on to
switches, circuit boards, syringes, smoke detectors etc.
What makes the pad printing process stand out from other forms of printing is the fact that it is capable of imprinting images on to virtually any shape - regardless how irregular it is!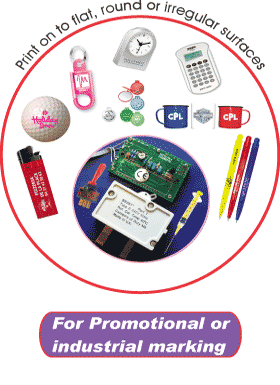 We think this example
of printing on to a Walnut may help to get the
point across!